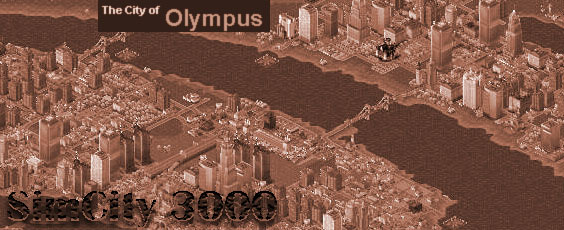 Welcome to my SimCity 3000 graphics page....
Despite not having seriously played any PC games for at least a decade, I have been a devout fan of the Sim City series ever since the original Sim City Classic was released in the late 80's. Sim City 3000, the latest release, is by far the best of the trio, and from the looks of things, I'm sure we can all look forward to even more spectacular sequels in the next millenium.
Images of my city, Olympus.

SimCity 3000 Links

Sim City 3000
The official Maxis site for the game.

SC3000
An unofficial site containing FAQs, tips, hints, cheat codes, strategy, an excellent bulletin board service and more.

Maxis
The creators of Sim City.
---
Copyright 1999 ArtemisWorks